DIAMOND BLADES
Euro-Cut's range of Diamond Blades is of the highest quality, combining a fast cut, efficiency, and safety earning high respect in the industry.
Pricing is per item and in UK £'s excluding VAT and delivery.
Concrete & General Purpose
Our Concrete & General Purpose blade is a fantastic value for money option, suitable for use on all types of building materials including concrete, bricks, slabs and roofing tiles, etc for use on: handheld machines
Dimensions (mm) List Price Box
115 x 22               5.40         1's
125 x 22               6.48         1's
230 x 22               21.57       1's
300 x 20               47.25       1's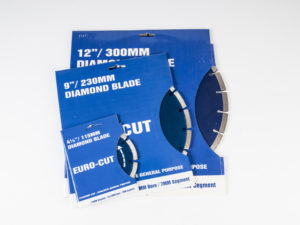 Premium CUT-ALL
Our Cut-All is a premium blade guaranteed to cut all building and construction products. It will cut all types of stone, concrete, clay, marble, granite, bricks, blocks, slabs, paving, and tiles.
The blade has specially constructed prolonged protection teeth, which protects the blade from undercutting and thus the core of the blade becoming damaged. for use on: handheld machines
Dimensions (mm) List Price Box
230 x 22               62.10    1's
300 x 20               118.80  1's
350 x 20/22          148.50  1's